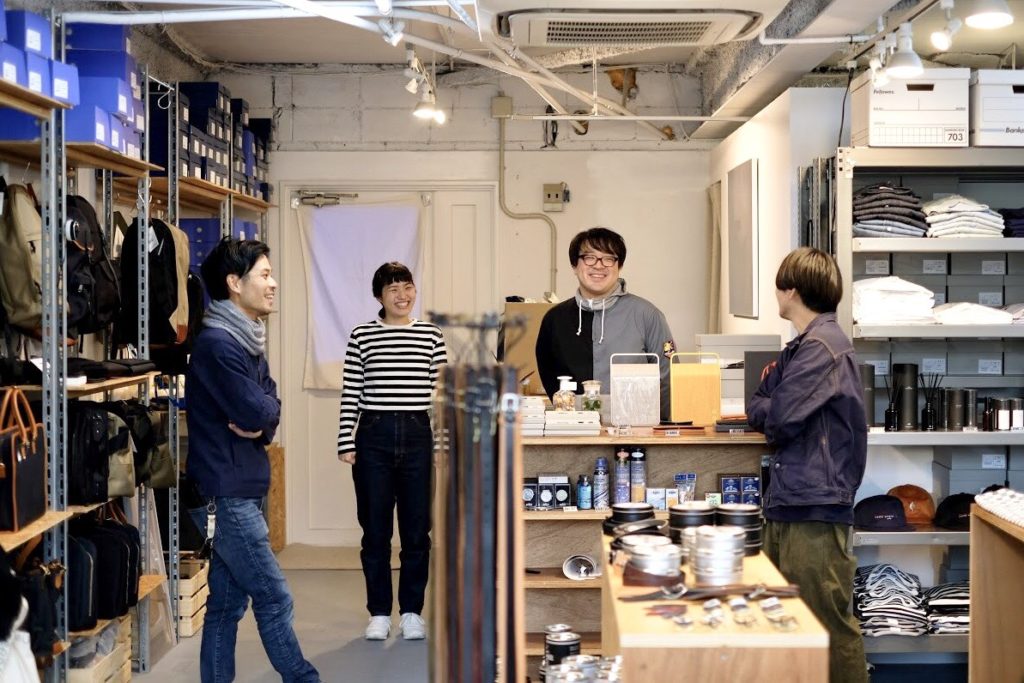 Our socks have brought us together with many people. People such as the team of manufacturers who value knitwin's socks, the owners of shops and brands that are dedicated to purchasing and delivering our products, and our customers who select and wear them. Every single relationship supports us to be the company that we are today.
We set out on a journey to approach our talented partners to present ideas to collaborate with them.

Our first interview is with "struct", a flagship shop of products such as the sneaker brand "blueover" and bag brand "wonder baggage", both manufactured in Japan. They are a select shop carrying items that boldly reveal the intentions of the creators.

NISHIGUCHI KUTSUSHITA (NK) was launched in 2017. Since then we embarked on various projects such as holding pop-up events, having trial sales of limited colors, and collaborating with partners to create novelty goods.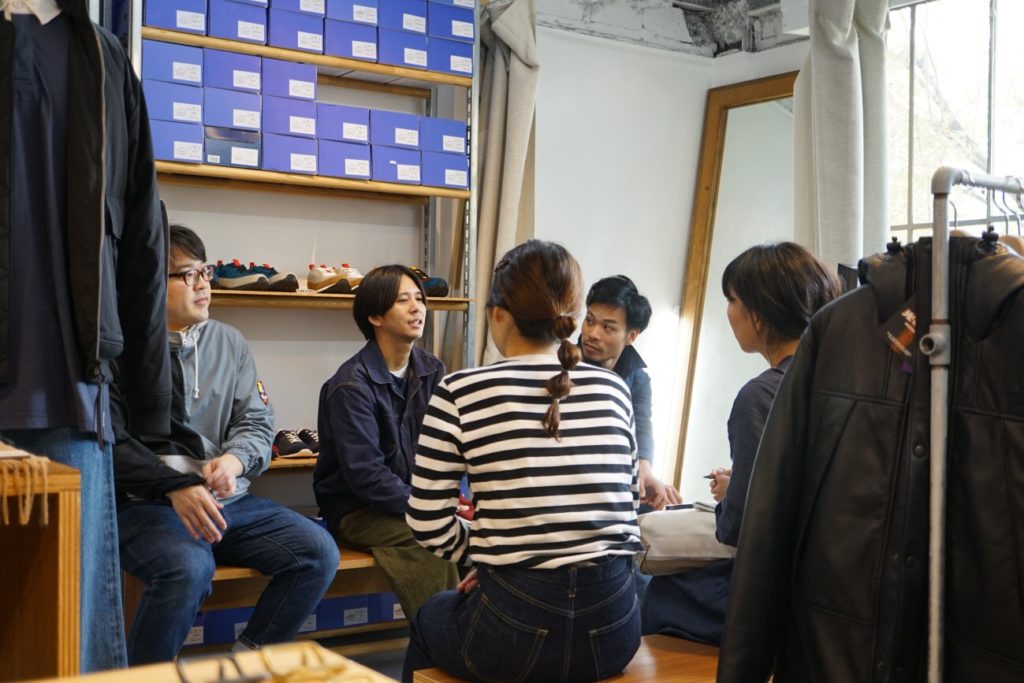 Center: Harada Yukihiro, BATON Ltd – Store Manager
Left: Koide Kazuaki, BATON Ltd – Designer
Center-front: Egawa Miki, BATON Ltd – Assistant Shop Director
– Tell us more about your company "struct"
We started out by selling sneakers that were manufactured in-house. After a year as a shoe store, we acted on our interests to incorporate total fashion, and started proposing and selecting other fashion items, expanding to become the company that we are today.
But let's go back to sneakers. It all started when Watari, our product manager who was involved with shoes and athletic spike designs, had the opportunity to do business with a few shoe manufacturing companies. At that time, he witnessed the hardships that Japan's shoe manufacturing industry was facing. The issue was, that most of the shoes sold in Japan were being imported. He feared that with the way things were going, the local shoe manufacturing companies would be wiped out and that there would no longer be a platform for new shoe brand creators in Japan's coming generations. He was eager to do all he could to support and maintain the industry for the next generation, and with this passion he created the made-in-Japan sneaker brand "blueover". We purposely chose not to have a logo, putting the focus on acknowledging Japanese values, connecting to lifestyles, and creating timeless products. When we heard about NISHIGUCHI KUTSYSHITA (NK)'s concept, "haku hito omoi,"it became evident that there was a similarity in what we valued.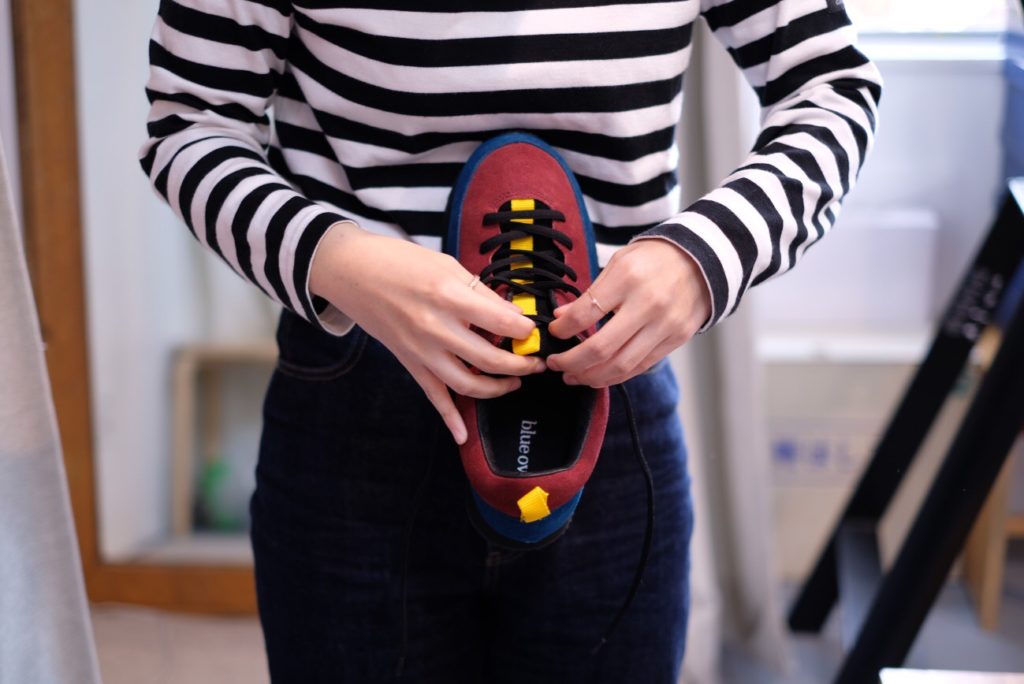 ※blueover
A sneaker brand manufactured in Japan with the concept "new and never changing". A company that chooses not to use the cost-efficient knockdown production method that is prominent in most companies. They do everything from making patterns, sewing and assembly, all in Japan.
– When you look back on your encounter with NISHIGUCHI KUTSUSHITA (NK), what are your thoughts?
We met in March of 2017, at an exhibition held in Tokyo. It was when I decided to do a walk around through the venue. It wasn't like I was looking for anything in particular. I was casually walking through and had passed by NK's booth. Once I completed my round, I thought to myself, "I want to find out more about those socks" and I went back to that booth to talk to Mr. Nishiguchi. He was so passionate when he started telling me about his socks! (Laughter) Of course I'd expect someone in sock manufacturing to be knowledgeable in that field, but he was on another level. To tell you the truth, I always thought that socks were all the same. They were either long or short, regular or five-fingered, made from natural or synthetic materials, but with NK's 15to 16 different sock styles on display, you could see that each sock was carefully designed to bring out the best in the various materials that they were made of, and I distinctly remember that in that moment, I felt I discovered a new world of endless possibilities for socks.
– What made you decide to sell NISHIGUCHI KUTSUSITA (NK) products in your shop?
First of all, we were amazed by the prices. By the way these socks looked, we imagined that they would be double the cost that was presented to us, so we were pleasantly surprised. (Laughter)
Socks, like underwear come in direct contact with the skin, so they tend to wear faster than other garments. That is just a fact that can't be changed. So having the ability to recommend quality products to our customers at a reasonable price, is a component in sales that we highly value. A pair of socks for 3000 yen is difficult to suggest to customers. They may purchase it if they were shopping for a thank you gift or something to give to that special person, but probably not for themselves.
I think one of the key factors in deciding to sell NK socks in our store was the reasonable prices that were made possible because they are a factory original brand. Also their main use of natural fibers was appealing. Not to put down synthetic materials or anything but if I speak for myself, I prefer natural materials especially for garments that come in direct contact with the skin. More and more I find myself choosing natural over other types so it is a big bonus that I can personally recommend NK socks to my customers.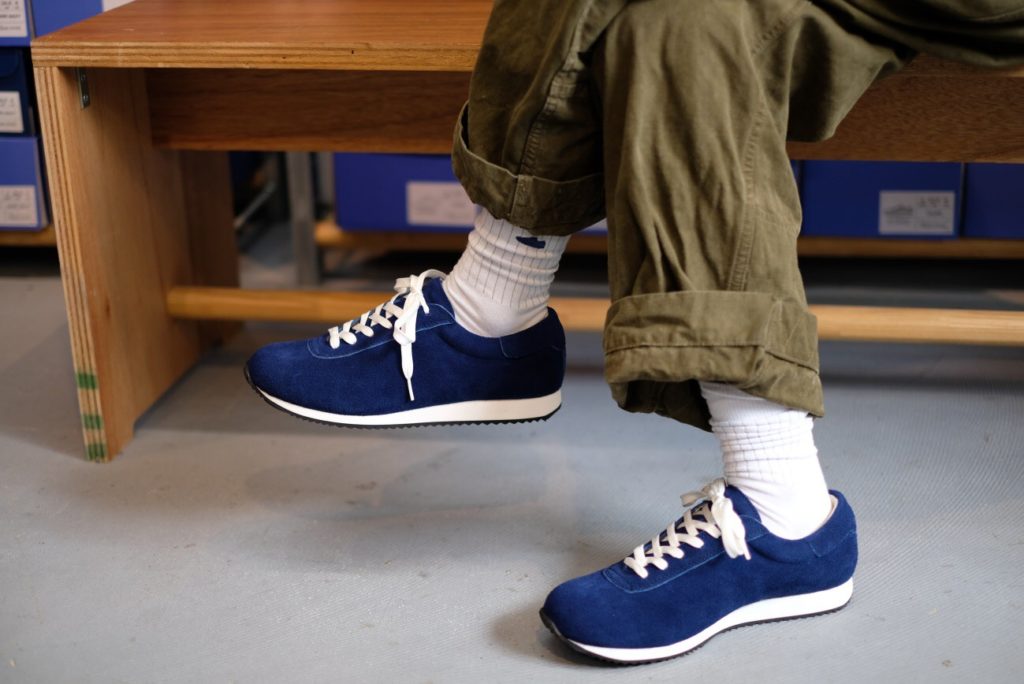 – Tell us about when you started selling NISHIGUCHI KUTSUSHITA (NK) socks
We started selling NK socks two months after our initial meeting at the March 2017 exhibition. In May of that year we held the anniversary party for "blueover" and "struct" where many of our supporters gathered, and this was a huge opportunity for us to introduce them to the NK brand. In the following year's anniversary party, we handed out NK socks as novelty gifts. We wanted to give something that would be useful and appreciated, and thought that their socks would be perfect. When we proposed our plan, they showed us different thicknesses of materials and provided us with samples of embroideries and different colors of thread, it was really fun.
NK even catered to our special orders. Red was our color for fall-winter of 2017, so when we saw the less commonly ordered red Egyptian cotton in the samples, we fell in love with it and not ordering socks in that color was just out of the question. You see, although our history doesn't date way back, we have already been engaged in numerous projects together.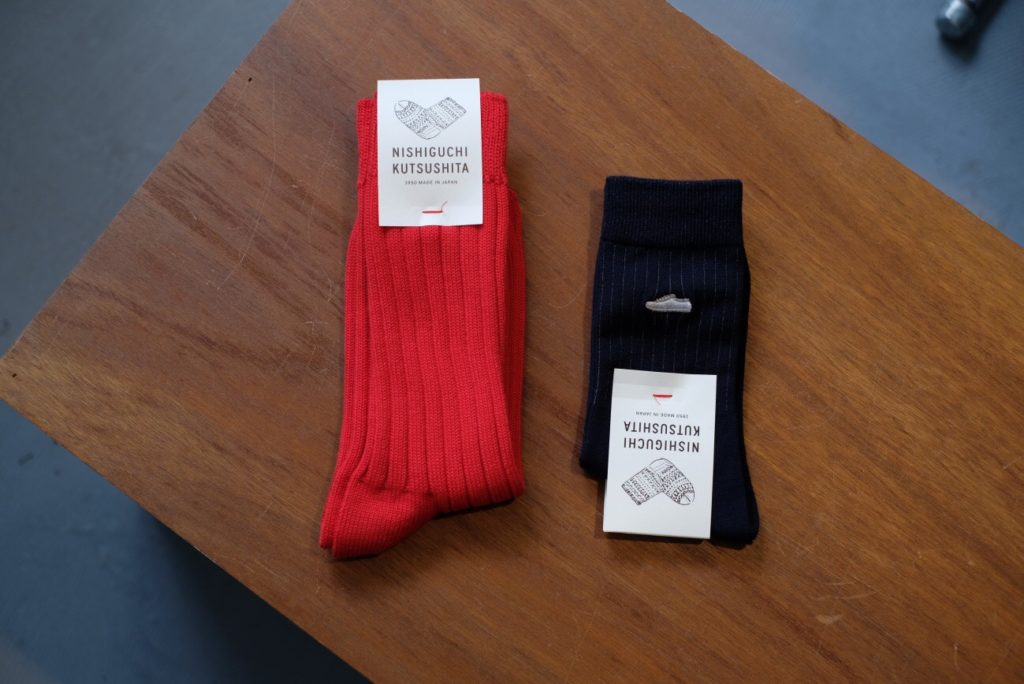 – So far what do you think about NISHIGUCHI KUTSUSHITA (NK)?
Mr. Nishiguchi becomes very passionate when it comes to socks – it is extraordinary! If I were to describe him in one word I would say that he is a wierdo. (Laughter) I actually always refer to him as the wierdo. NK is a company that doesn't ride on the waves of trends. They have a clear vision which they value and follow, and this vision is all about what they want to create and what concept they want to present. This is why we felt really good about working together with them.
Quite often our customers are not sure just what type of store "struct" is. Of course we sell fashion items but it's not just as simple as that. We also suggest a certain lifestyle through the products that we sell. I think that all of the brands that we do business with, including Mr. Nishiguchi's, share that same projection.
– Do you have any ideas for the future?
Let me think…socks that you wear after coming out from saunas? (Mr. Harada and Nishiguchi are sauna buddies) We should make them thick, five-fingered and made of materials that retain warmth so that your feet can stay warm after the sauna for a longer period of time. Arm covers for men are another product I had in mind. I also think that there is no need to limit ourselves to socks. It doesn't even have to be a new product, it could be an event, like a company tour! We could bring our customers on a bus tour of NK's manufacturing site. Mr. Nishiguchi is just such an interesting person and I want everyone to meet him. (Laughter)
You know, I can say with confidence that NISHIGUCHI KUTSUSHITA (NK) is a trustworthy brand. Mr. Nishiguchi has such an authentic personality and we see a reflection of it in NK and its products.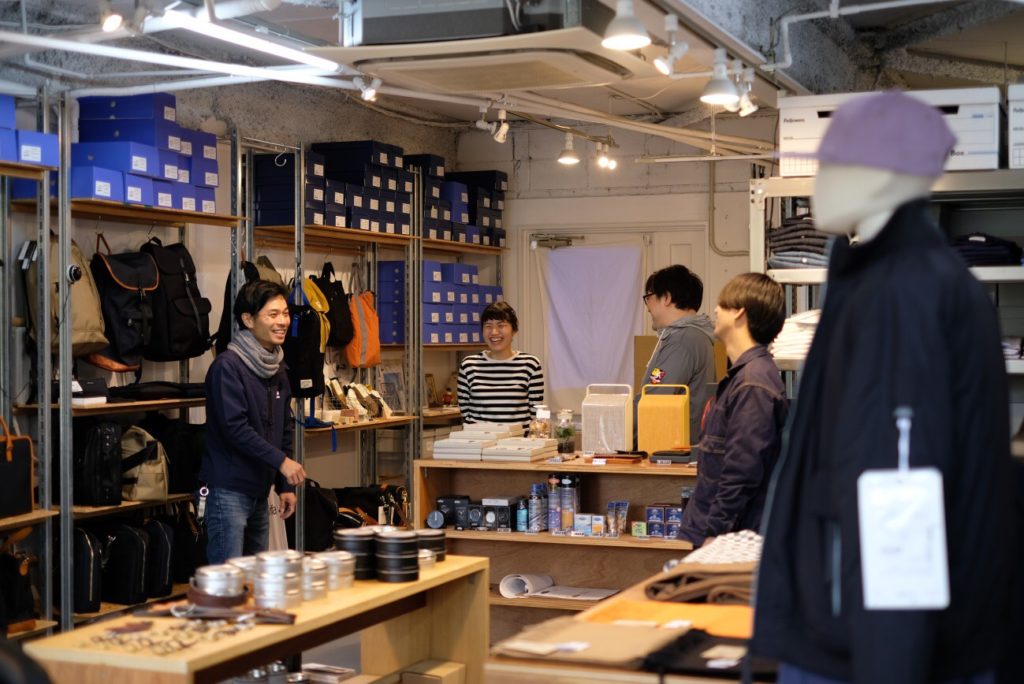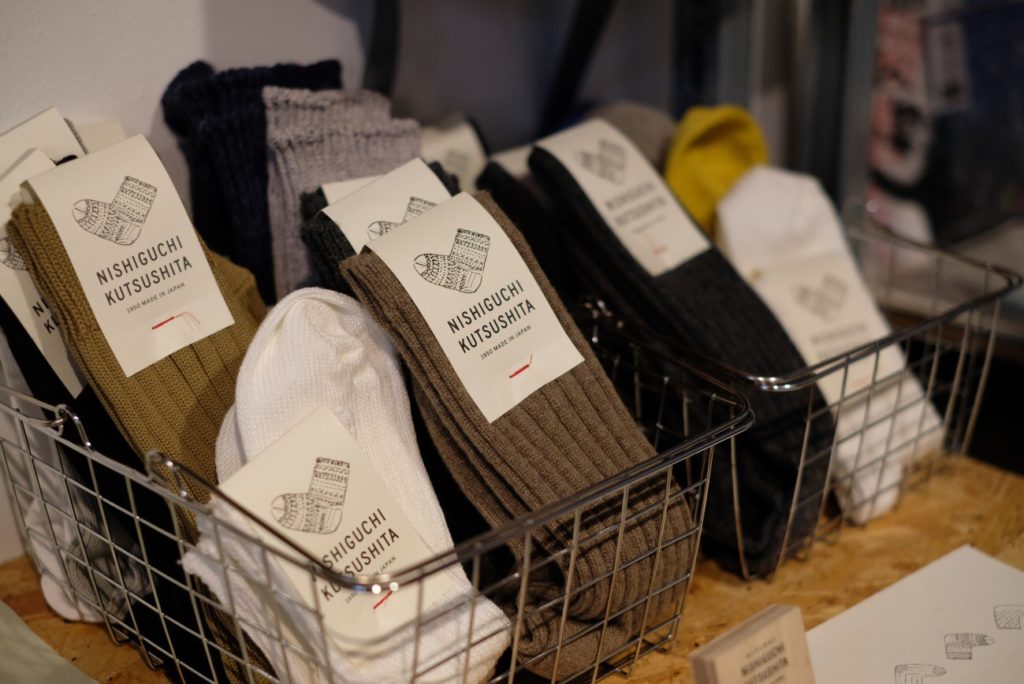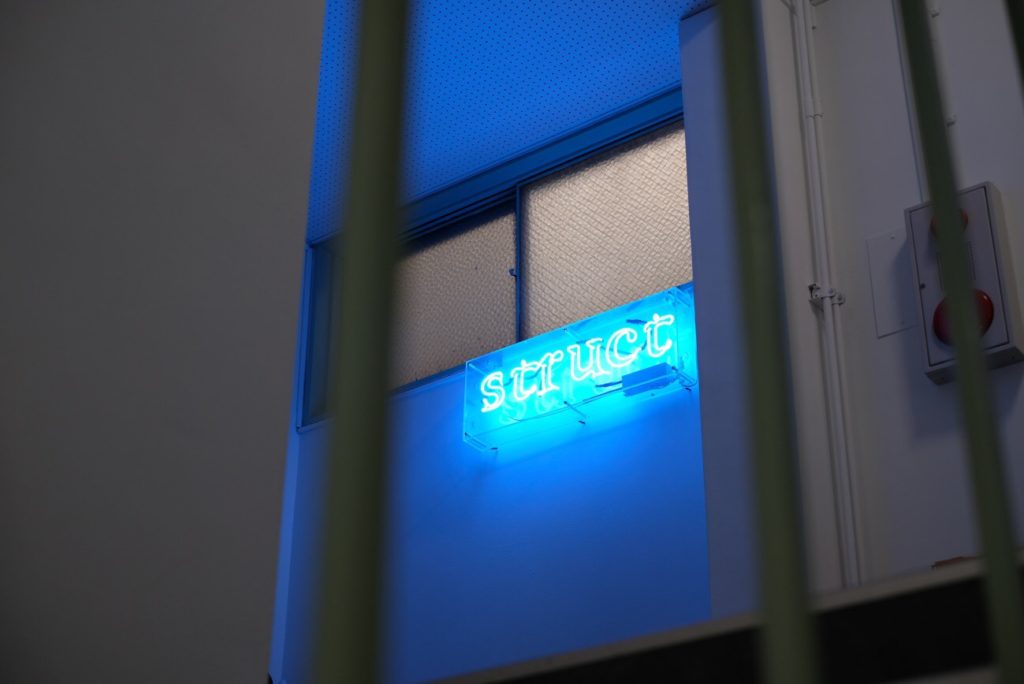 struct
550-0003 Osaka, Nishi-ku Kyoumachi Hori 2-3-4 Sunyamato building 1F
Tel: 06-6447-6030
Hours: 12:00-19:00 (closed on Tues. and Wed.)
Email: hello@struct.biz
Map: https://goo.gl/maps/eRsjjUzUQ412